Peter Ebdon prolongiert VIENNA-SNOOKER-OPEN-Titel
Snookerstar Peter Ebdon hat Sonntagabend (8. 5.) im Köö 7 seinen VIENNA-SNOOKER-OPEN-Titel vom letzten Jahr erfolgreich verteidigt. Der 45-jährige Engländer deklassierte seinen um zwei Jahre jüngeren Landsmann Mark Davis in einem einseitigen Finale des von den 15 Reds veranstalteten Pro-Am-Turniers mit 5:1.
 Ebdon (Weltranglisteposition: 31) dominierte die ersten beiden Frames mit Breaks von 116 (12 mal Rot-Schwarz, nach der 13. Roten verlor er Stellung auf die Schwarze und musste Grün spielen) bzw. 64 Punkten (2:0). Der topgesetzte Davis (WR: 26) konnte erst im dritten Frame seinen ersten Punkt erzielen, gewann den Frame wenig später mit einer 51er-Serie (2:1). Ebdon ergriff jedoch erneut die Initiative und entschied dank Breaks von 88, 91 und 60 das Match klar für sich (5:1).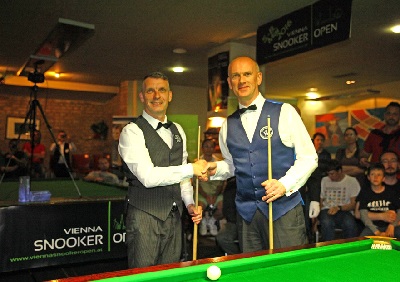 "Ich hatte den besseren Start und konnte meine Chancen sofort verwerten. Letztendlich sieht das Ergebnis einseitiger aus als das Match wirklich war", sagte Ebdon, der 2002 mit dem WM-Titel den größten Triumph aus seiner Karriere feiern konnte. In einer Neuauflage des Finales 2015 gewann Ebdon im Halbfinale gegen den zweifachen Wien-Sieger Mark King (Eng, WR: 36) mit 4:2.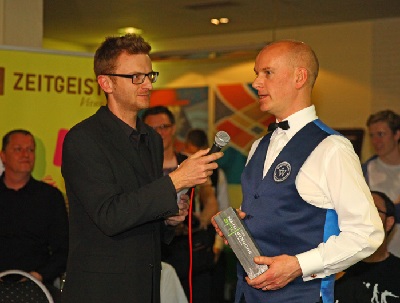 Davis, der erstmals in Wien antrat, sprach trotz Finalniederlage von "einem gelungenen Wochenende." In einem hochdramatischen Halbfinale gegen Gary Wilson (Eng, WR: 42) hatte Davis einen 0:3-Rückstand noch in einen 4:3-Erfolg verwandelt. "Ich bin froh, dass ich's bis ins Finale schaffen konnte. Darin hat Peter mir aber einfach keine Chance gelassen", sagte Davis, der dreifacher 6-Red World Champion ist und heuer das World Seniors Championship gewann.
Mit dem erneuten Turniergewinn von Peter Ebdon enden die VIENNA SNOOKER OPEN 2016. An dieser Stelle bedanken sich die Organisatoren Andrea Pihurik, Christian Fock, Sebastian Hainzl, Clemens Kunkel und Alexander Trinkl bei allen Sponsoren, beim Köö-7-Team, und bei allen freiwilligern Helfern von den 15 Reds herzlichst!
PS: Und weil es so schön war, blicken wir morgen auf 15reds.at mit exklusiven Interviews mit Peter Ebdon und Mark Davis noch einmal auf die VSO 2016 zurück.
Interview Mark Davis
Mit Mark Davis gegen Peter Ebdon bekamen die 6. VIENNA SNOOKER OPEN Sonntag (8. 5.) das Traumfinale zwischen dem 1. und 2. der Setzliste. Das Ergebnis kennen wir (5:1 für Ebdon), Zeit also um mit den beiden Hauptakteuren auf die VSO 2016 zurück zu blicken.
Im ersten Interview: MARK DAVIS.
Congratulations on your second place. When you're in the final you obviously want to win it but those first two frames put Peter in the driving seat.
"Yeah, I think so. It was a good weekend for me but when you get to the final you want to win it, you really do. But to be honest, I was never involved in the final. Peter had a great start. I had half a chance in the second frame to clear up from 60-something behind but I didn't take it, I missed the first red. He really outplayed me, scored heavy, and I was on the baulk cushion a lot as well which some of his openings came from. Sometimes you just get outplayed in a match. He really played great, didn't miss much. I got no complaints. He was by far the better player in the final obviously."
Did the semi-final (beating Gary Wilson 4:3 from 0:3 down) take a lot of energy?
"No, I wasn't tired. I've done a half-marathon couple of months ago so I am reasonably fit. It's only a best of seven. I could have easily lost that match, especially the way Gary played. To win that was a sort of boost for the final – but I just never got involved. It's a simple as that."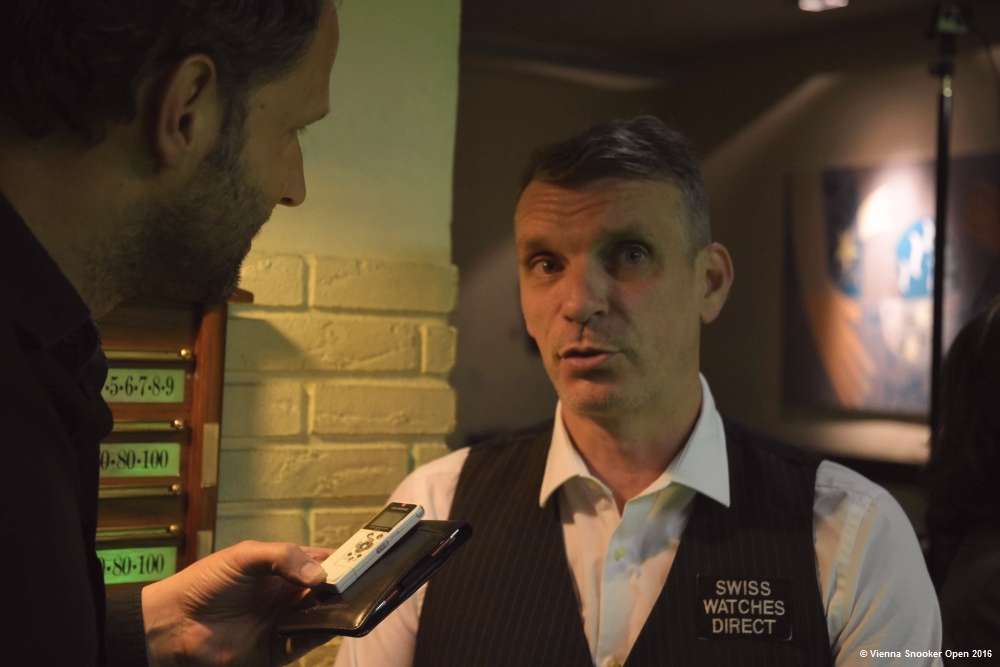 Mark Davis - Finalist der diesjährigen VIENNA SNOOKER OPEN (Interview with Eric Willemsen)
Being on the Main Tour for 20+ seasons, what feeling do you have coming to tournaments like the VIENNA SNOOKER OPEN?
"It's good money to start with, and it's good match practice as you're playing good players. I would start playing for the upcoming season now anyway as we've got some matches at the end of the month. It's better practice to come here and play this tournament than stay in your club. It's a brilliantly run tournament, makes you feel very welcome. The players appreciate that, they really do."
What about the playing conditions? The tables are different from those on the Main Tour.
"The pockets are a lot bigger than what we play on but the cloths are nice, they play nice. I've played in tournaments held in clubs where the tables were shocking. But these are quite nice. The cloths run really well and balls come off the cushion like they should do."
Do these bigger pockets tempt you to go for the big breaks? To take on shots you normally wouldn't?
"Exactly, that's the thing. You take some shots on you might not normally do. But you know it's being like that when you come to a club to play a tournament. But the actual cloths were lovely, played really well, quite fast. No complaints at all. It's quite good conditions here."
You reached the quarterfinals at the Shanghai Masters and won the world seniors title. How do you look back on last season, and what's your goal for the next?
"Not great. I think the world seniors saved me a little bit. I didn't start too bad really with the quarters in Shanghai early in the season. But it was not great. I had too many mistakes throughout the season, I lost a lot of games I should have won. I had some good seasons up to now. You learn from your mistakes. Obviously you want to get back to the top 16 and want to win a tournament, but usually I don't set goals for a new season. It's not something I normally do, no, but maybe I will start doing that now."
- Eric Willemsen
Interview Peter Ebdon
Mit Mark Davis gegen Peter Ebdon bekamen die 6. VIENNA SNOOKER OPEN Sonntag (8. 5.) das Traumfinale zwischen dem 1. und 2. der Setzliste. Das Ergebnis kennen wir (5:1 für Ebdon), Zeit also um mit den beiden Hauptakteuren auf die VSO 2016 zurück zu blicken.
Congratulations on winning the VIENNA SNOOKER OPEN again. You really dominated that final.
"Thank you very much. It's a shame I couldn't have gone on to make a 147 in the first frame and then I was on for one in the second frame but it didn't work out. I keep trying."
You scored very heavily, not just in the final but throughout the event. Do club tables make it easier to go for the big breaks?
"For the professionals this is like going back 25, 30 years. These are the sort of tables we grew up with. The pockets are definitely bigger. Having said that, for the professionals it's quite difficult to play on these tables because the cloths are different. I noticed early on in the tournament, especially when I was playing with a bit of side, I was pulling balls thin, I was missing balls, overcutting them by quite some way. It can be very difficult to adjust to the table. I think it tends to favour a player who can strike the ball centrally. I've always tend to play with bits and pieces of side, that's just the way I was brought up. It took me some time to adjust and I had one or two matches I didn't play well."
Your tournament could have been over in the last 32 (escaping defeat against Garry Balter).
"I could easily have lost in the last 32. I played a chap called Garry and he played so well against me. Fortunately I ended up winning 3:2 but I was very impressed with him and he played really well. He is a good player, a very solid player. I was very impressed with him."
Peter Ebdon - Winner of the Vienna Snooker Open 2016 in interview with Eric Willemsen
Having won the world championship and being a seasoned pro for so many years, what feeling do you bring to a tournament like the VIENNA SNOOKER OPEN?
"I always try my hardest, no matter what tournament I am in. It's always lovely to come away with a win. It doesn't happen very often, especially in the latter stages of one's career. But it's a great tournament, the players love coming over here, we're very well looked after, the set-up is very professionally done. Hopefully – tournament calendar permitting – next year again."
Is this more of an exhibition or a competitive tournament for you?
"I don't do too many exhibitions these days because I don't have time. But the way it went in the final it was always going to be very competitive against Mark. Fortunately, today things went my way and I managed to score quite heavily in amongst the balls which you need to do when the pockets are a little bit more generous than normal. It could easily have gone the other way and I could have got beaten 5:1 and Mark could have made those breaks. Sometimes it puts a little bit more pressure on you when the pockets are a little bit bigger."
Qualifying for the world championships and getting back to the Crucible again, was that the highlight of your season?
"Yeah, that was massive for me. I somehow managed to beat Gerard Greene 10:9, I was 8:2 and 9:3 behind. How I won that match, I don't know. I just hang in there and then played quite well for a few frames. Gerard actually played a very good final frame where I was fortunate on numerous occasions on the colours. It's been a weird season, really, as I lost five or six matches where I had desperate luck, anything that could have gone wrong, went wrong. I wondered all the way up until the world championship, would it turn around? And it did turn around in one frame when I needed it the most. This game never ceases to amaze me."
Is staying in the top 32 your main goal for next season?
"To keep breathing is the No. 1 goal. But to stay in the top 32 would mean an awful lot to me at the end of next season. I would have been in the top 32 for 25 consecutive seasons and I don't think that happens very often in sport, let alone in snooker. You could probably count on one hand the players who have done that. It would mean even more to me to win another ranking event and to get back in the top 16."
- Eric Willemsen
Der 15 Reds Köö Wien Snooker Club ist sehr stolz darauf, seine Erfolgsgeschichte fortzusetzen und Ihnen die
VIENNA SNOOKER OPEN 2016
5. Mai bis 8. Mai
 präsentieren zu dürfen. Gern möchten wir Sie einladen, mit uns dieses große Snookerfest zu feiern!
 Vom  5. bis 8. Mai 2016 werden 80 Spieler um ein Preisgeld von 10.000 Euro kämpfen und Snooker erneut der breiten Öffentlichkeit in Wien präsentieren. Dank unserer Sponsoren und Medienpartner können wir auch in diesem Jahr mit einem hochklassigen internationalen Starterfeld aufwarten, das Spiele auf höchstem Niveau bieten wird. Um wieder die Atmosphäre von professionellen Snooker-Events zu schaffen, möchten wir Sie herzlich einladen, an diesem Turnier als Spieler oder Zuschauer teilzunehmen.
Wir würden uns außerordentlich freuen, Sie auch bei den Vienna Snooker Open 2016 begrüßen zu dürfen.
Der Austragungsort ist das KÖÖ 7
Kirchengasse 41 (Ecke Burggasse) - 7. Bezirk